I could have been here with Husband and friends:
While Griff spent his day here:
Instead I'm alone here:
Because Griff was: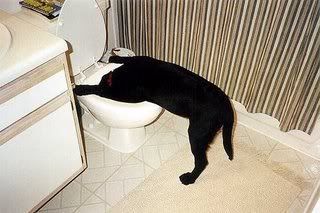 We spent the first part of our evening enjoying a leisurely dinner outdoors at
Pipa
with some old friends, sipping on sangria and savoring what could be one of the last warm summer nights in NYC. Returned home to a vomiting puppy with diarrhea. Now Griff has thrown up before, and he's certainly had his fair share of nasty number twos. But this seemed different, so around midnight, we packed him up and headed to the nearest 24-hour animal ER. Small dogs - especially puppies - can get dehydrated and hypoglycemic VERY quickly...plus, we wanted to make sure there was no strange obstruction in his stomach (we are transitioning to dry food and he seems to swallow most of the kibble whole!).
Several hours and many $ later, we were able to take our baby home. But not before a battery of tests - bloodwork, fecal tests, a radiograph for his stomach, etc. For months now, we've been meaning to purchase
pet insurance
...putting it off with little thought that we may actually need it. It's complicated enough figuring out your own health insurance, and possibly just as difficult for pet insurance! Most people
wonder if they even need health insurance for their pet
. But then, they face a vet bill that costs hundreds or even thousands of dollars...most of which could have been covered by pet insurance.
I'll admit...Husband is far more knowledgeable about this then I am. I know that higher deductibles tend to mean lower monthly premiums (and vice versa), and in most cases you must pay your vet upfront and later submit your claims for reimbursement. Reimbursement is commonly around 80%.
Petinsurancereview.com
is a great site to compare plans, with detailed reviews of certain plans and coverage options. These: (
article #1
,
article #2
) are great lists to get started with. Finally, to learn more and get in touch with other pet parents, the
Dogster.com
forums are a wonderful resource.
The plans we have been focusing on are
Trupanion
,
VPI
, and the
ASPCA Pet Insurance
, but there are many plans out there. My advice is to look through the options and consider what kind of coverage you need. Many people opt for illness and accident coverage, while others prefer comprehensive coverage that expands to routine veterinary care. Yes, it can add up, but as with human health insurance, you rarely use what's available until you truly need it. Consider the cost-benefit ratio - what it would cost you to pay for veterinary services upfront, versus the potential reimbursement you could have received. Additionally, where are you located? In the city, the sidewalks and streets are a perpetual hazard for dogs and dog walkers..there are more threats to avoid than the suburbs or country.
Did I mention that we left the animal ER with no actual diagnosis for Griffin? Yeah. Just some anti-nausea medication and an antibiotic. And many many dollars spent. We plan to decide on an insurance plan by the end of the week. If you're a pet parent, I urge you to look into insurance if you haven't already. September is Canadian Pet Insurance month (random, I know), so it seems as good a time as any!